Unlock your full potential as an entrepreneur or business with our metaverse consulting services. Our goal is to help you achieve sustainable growth and long-term success in Upland. Our consultant YK2012, an expert and thought leader in the Upland metaverse brings a unique combination of real-world experience including design thinking, innovation, project management, and manufacturing to guide you to success within the metaverse.
At the Upland Guide, we understand that every Uplander or business is unique and that success requires a tailored approach. We believe that this key to success is understanding your long term goals and ambitions within the metaverse. YK2012 offers a variety of consulting services to help both individuals and businesses of all sizes achieve their goals that can be detailed below.
"I'm presenting Upland's vision of the metaverse super-app, where a virtual world grows beyond entertainment to become the platform where people manage their digital lives."

Dirk Lueth, co-founder of Upland, January 2023 at the World Economic Forum
Business strategy development is the foundation of our consulting services. We work closely with our clients to understand their unique strengths and opportunities, and develop a plan to capitalize on them.
If you have yet to register for Upland, make sure to see the promotions we provide to players who sign up with our referral code.
Business strategy development
Business strategy development is the foundation of our consulting services. We work closely with you to understand your unique strengths and opportunities, and develop a plan to capitalize on them.  The metaverse is under construction, and now is the ideal time to become an early adopter and provide goods and services to one of the fastest growing metaverses.
From strategy to implementation, we will be with you every step of the way to ensure your success in the Metaverse. Trust us to discover the future of your business.
As a member of the UCN (Upland Contributor Network) YK2012, the founder of the Upland Guide has one of the largest followers of Uplanders.  As a top influencer in the metaverse he is able to connect with new and experienced players who are looking to understand the metaverse, learn new features, strategies and tips to advancing and building the personal empires.  With social media presence on YouTube, Instagram, TikTok, Twitter, Discord,  Facebook, and of course the upland-guide.com website, we can leverage these mediums to highlight your brand, products or services to a large and growing group of Uplanders.
Looking to identify prospective land in order to create a home base for your brand and/or community can be a daunting task in Upland.  We can help you goal set, strategize, analyze the real estate market, and advise you on the best way for you to grow your metaverse empire.  Based on your goals and strategy, we can assist in acquiring, and constructing on that land (using spark).
Similar to the gnomes and mailboxes depicted below, players are able to create user generated content in the form of outdoor decor items that can be placed on one's properties.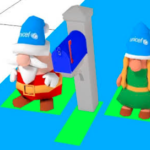 The visual  3D design of these and other NFT assets that can be used within Upland is the end of the complete design process.  The process begins with value creation.  Having high quality designed items and an excellent social media marketing strategy in order to sell them, may not be enough.  Since the barrier to entry to create in game assets is quite low, players can expect to have lots of options.  It is important to find a way to provide additional value and utility to the assets that you create.
YK2012 can assist you in the following steps within the design and manufacturing process:
Brainstorming and ideation - what value are you looking to provide your customers with pieces of outdoor decor.  Is your outdoor decor just a cool item to have placed on your lawn, or does it have additional utility for its owners? Watch this introductory video to learn what is possible.  Using brainstorming and design thinking methodology, YK2012 can help you conceptualize a metaverse experience within Upland that fits with your brand.
Design -  Whether you need a fully realized 3D environment for your next game or a detailed 3D model for your outdoor decor, we offer professional 3D design and game development services.  All 3D NFT outdoor decor models are designed in Blendr. Beyond the visual aspect of the items, we can advise on design for transportation to help keep costs to a minimum.
Production planning  and manufacturing  - Whether you have a factory of your own, or you are looking to outsource the service, we have the land and spark resources required to manufacture your 3D items.  We can manage your production runs based on customer demand and available inventory.  Defining the maximum mints of each 3D item is an important step that bridges the ideation and manufacturing stages.
Shipping and transportation - Once manufactured, items must be transported using vehicles from the factory to a showroom where the items are sold to customers.  We can take care of all the logistics to ensure that there are no manufacturing bottlenecks and that all the product arrives on time in showrooms to ensure the virtual shelves are always stocked.
Sales - We can operate your showroom, or utilize one of ours to ensure that inventory is available for purchase.
We pride ourselves on providing personalized, high-quality service to each and every one of our clients. We understand that every business is unique and that success requires a tailored approach. If you're interested in learning more about our services and how we can help your business succeed, please contact us today to schedule a consultation. We look forward to working with you!
Contact Us