If you have ever collected football cards or played Fantasy Football, Upland is utilizing NFTs, the blockchain and its technology to revolutionize both of these industries. You can read about how Upland Legits as NFTs are becoming a popular alternative to physical trading cards.
As Upland enters the 2023 season – its 3rd season with the NFLPA partnership, Upland has improved the game mechanics for how you can play, earn, and connect with NFLPA Legits. Click here to see how to get started with collecting Legits, FAQs, and if the NFL is completely foreign to you, check out Dale's Beginners Guide to football.
Read here about the different types of NFL Player Upland Legits. These Legits can be purchased in the Upland Store, and at NFLPA stadiums in the Metaverse.
Throughout the season, we can expect to see competitions similar to the Triple Threat Challenge that was introduced partway through the 2022 NFL Season. Watch this video to learn more about that competition. Your football knowledge, and Legits collection can help you to win both UPX and Spark.
At seasons end, players who rank the highest in NFLPA team fan score will win an exclusive block explorer of that team's start player. Each of the top 3 team fan score holders will win this explorer. See below an example of the Patrick Mahomes '22 MVP Block Explorer. See the Upland Guide Block Explorer Directory to see all the different block explorers of the NFLPA Team MVP series.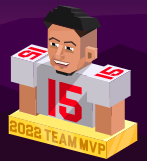 Once you own some Legits, read about what can be done with your NFL player Upland Legits.