New city releases in Upland are one of the more exciting aspects of the game. Participating in a new city release is the best way to grow your net worth. Upland releases cities on a regular basis – primarily as the user base continues to grow and when a new partnership is announced. Here is a list of cities in Upland and their property availability. It seems that Upland wants to control the ability for there to be properties available at reasonable prices for new players who are starting out. FSA properties fit this need as they can only be minted by Uplanders (net worth less than 100,000 UPX). Some cities are often expanded upon, to meet future demand by new players. A city expansion follows a lot of the same process detailed below with some modifications. Learn more about city expansions here.
If you have not participated in a new city release, the process leading up to it can be confusing and overwhelming. This page will explain in greater details the process, what to expect and clarify many of the frequently asked questions regarding new city releases. Watch the video or continue below the video for people who like reading better. Make sure to test your knowledge in our new city release quiz as a self assessment of your readiness for a new city release.
The city information is an important indication of its tier within the Metaverse. Based on the PSI index (price, size, icon status) you are able to see how this city fits within the Metaverse. One thing Upland does not disclose is the price aspect. The actual neighborhood values, which are used to determine the mint price of a property are not discoverable until several hours before the city release. Information that is provided are send fees, if the city has an airport, the number of collections, percentage of FSA properties, and treasure hunting tier.
Another important piece of information provided is whether the city will be released in regular or vanilla mode. Vanilla more means that the collection are not revealed until approximately 1 week after the city is released. This gives people equal opportunity to mint extremely valuable rare and ultra rare collection properties. In regular city releases, ultra rare collection properties are typically not available for mint. They are typically given away in contests or sold in other methods after the release. Read why Dale the Llama prefers vanilla releases to regular city releases.
Once this announcement is done, we recommend you begin doing research about the city. The best place to do this is google. The best way to think about it is to pretend you are planning a real world vacation to that city. What famous sites are there, what are the popular neighborhoods and streets (for potential collections), etc. This can give you a good start in forming a strategy for the new city release. Start thinking of what areas you want to mint in, and what your budget is (either in UPX or if you plan on buying UPX before the city release). Click here to best prepare yourself for a new city release.
Travel between cities is done by public transportation. You can't just send your block explorer directly from one city to another like you do within a city. One of the biggest misconceptions is that once the announcement is made you will be able to travel to the new city. This is simply not the case (unless the released city is an extension of an existing one, for example Alameda and Berkeley as an extension of Oakland). Before anyone can travel to a new city, these public transport terminals must first be bought and minted. Upland announces the sale and registration times for purchasing these terminals.
Terminals are typically sold for USD only, therefore registering for the sale is done on the "web version" of the game. This means that you must log in from a browser and not the app in order to register. The same is true for making the actual purchase. Upland will provide another update prior to the opening of the registration. This will include the prices of the terminals that are up for sale. To register, click the yellow "get UPX" button in the upper right corner of the screen and register for the relevant items - once again through a browser and not the app.
Q: Do I have to register immediately in order to guarantee myself a terminal?
A: No. You can register at any time during the registration period. After the registration period closes, all registrants are "lined up" for a priority purchasing. There is no correlation between the order that people register to their actual position in the line up. It is also unlikely that the lineup is completely randomized.
Q: How do I know what position I am in the lineup?
A: Shortly after the registration closes you will receive an email indicating your spot in the lineup and the time you will be able to make your purchase (assuming the item has not sold out before you get to the front of the line)
Q: Is it free to register?
A: Yes. It does not cost you money to register. If it comes your turn in the lineup and you have the opportunity to buy the terminal you can still pass on the opportunity. Since the lineup is unlikely completely random, Dale the Llama thinks that the algorithm does not favor players who register and in the end pass on the opportunity to make the purchase if the terminal is available. He recommends only registering for items that you intend to buy if you have the chance. If you know ahead of time that the terminal is outside your budget or that you will not be available to make the purchase during the sale time (eg. if you will be asleep) Dale recommends not registering. The algorithm may not favor people who successfully make purchases, but it might give lower prioritization in the future to players who don't follow through with purchases.
Q: If I am at the front of the line but I am unavailable to make the purchase can I give my spot in line to a friend?
A: No.
Q: How long do I have to make the purchase once it is my turn?
A: Approximately 2 minutes. Have your credit card or method of payment ready.
Q: I missed my turn in line, what can be done?
A: Nothing.
Q: I just spent the money to buy the terminal, where is it?
A: The purchase is in fact to buy the amount of UPX required to mint the terminal. Upland will reach out to you directly via email with further instructions regarding minting the terminal. (continue reading below)
Once the terminal sale has been completed, the players who purchased terminals will be contacted directly by Upland via email to arrange the minting of the terminals. These specific players will be able to travel to the new city in order for them to mint the terminal that they purchased through the sale. All other players are still unable to travel yet.
Following the minting of the terminals, another announcement is made by Upland indicating when the travel routes are open for people to travel to the new city. This is done typically at least 24 hours before any sort of release.  The Upland Guide Discord server has a travel bot that will help you determine both the fastest and the cheapest travel route between any two cities in Upland.
Pro tip - before travelling to the new city, make sure to to start your journey with the maximum number of sends. You won't be able to pick up any new sends in the new city until the release. Watch our video to learn how to travel between cities in Upland.
It is important to note that each terminal has a daily limit of players that can pass through it. This might mean that not everyone will be able to travel to a new city. Upland does make sure to temporarily increase those numbers for new city releases as they want to accommodate more players. All Dale can say is plan accordingly, or watch this video on how you can sometimes get around this obstacle.
A stress test is Upland's way to ensure that they are prepared for the release. If there is any risk that a release will not be smooth, they may opt to perform a stress test.  This will typically be indicated as part of the initial announcement.  They want to make sure that the game will not crash and that the release can provide a smooth user experience. To test this, they may open up one neighborhood in a controlled release.
This test will create a concentration of many players minting a relatively small amount of properties in a short period of time. If there are issues that arise it allows Upland to make improvements or if need be delay the release of the city. Once the complete city is released, the consequences of having to stop it due to bugs or poor user experience can have large negative consequences. Doing a test in a more controlled environment will help to mitigate risks, and hopefully prevent such a situation from occurring.
Several hours before the unlocking of specific neighborhoods it will be possible to calculate the mint price of the properties that your block explorer is in range of.  Click on your block explorer, and the middle icon.  You will be able to see the property earnings of each property, and from there you will be able to calculate original mint price and neighborhood value.  It is unlikely that the neighborhood that is part of the stress test is the most or least expensive neighborhood in the city.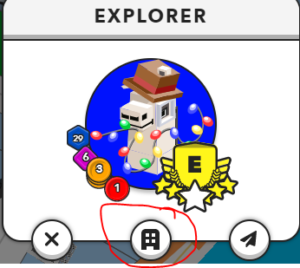 Upland will give a 5 minute notice in Discord and Twitter prior to the start of the stress test. At the specified time of the test, all the properties in the neighborhood in question will turn from white to grey. Your block explorer which has been aimlessly wandering around the city may be far away from the neighborhood that is part of the stress test. If your block explorer is in range of properties in that neighborhood, they will turn light green indicating that you are able to mint them. Watch our video about how to mint a property if you have never minted one before.
If you are far away from the neighborhood but want to mint a property, you will have to wait for someone else to mint a property first. In Upland, you can only send your block explorer to minted properties. People who find themselves already in the neighborhood have an advantage over other players because they will likely be able to mint several properties before you have the opportunity to send your block explorer to a minted address. You may find yourself trying to play catchup as players who are half a step ahead of you are minting properties you are going for. Upland can end the stress test at any time, or when the entire neighborhood is completely minted. It is not typical for a stress test to last more than 10 or 15 minutes.
The most important thing to remember about a stress test is that it is a test. There is a high probability that you will not be able to mint many properties due to the high competition for a relatively small number of properties compared to the number of players participating.
Similar to the stress test, a 5 minute notice is provided prior to the release of the city in Discord and Twitter. If the city is a regular release where the collections are known, Upland will announce those collections several hours before the city release. Once the city is open, the entire city will turn from white properties to grey, and an area around your block explorer will turn light green. You have the best opportunity to mint properties where you are. If you find yourself in a highly desired area, hopefully you will be able to mint a few properties before people send themselves into the area. The opposite can be true if you want to send yourself to a different location.  There is a 10 second cool down after minting a property before you will be able to mint the next one, so its important to be decisive and quick thinking regarding the properties you plan on minting.
Most importantly, familiarize yourself with the top mistakes made by players during new city releases and the new city release strategy for new players.
Vanilla mode collection reveal
If the city was released in vanilla mode, collections are typically revealed one week after the release. It is important to be aware of this and to remove your properties from the secondary market prior to the collection reveals, watch here to find out why. Stay tuned in Discord and Twitter for details about collection reveals.