cryptomonKeys is an exciting project where people are able to win NFTs for free. From the cryptomonKeys website, "cryptomonKeys are freely distributed, community-driven, meme-rich digital trading cards based on NFT technology, here to disrupt the meme economy. The intention behind the project is to create a digital trading card series we ourselves would like to collect, and to connect the BANANO ecosphere and its meme-rich community culture to the world of NFTs/digital collectibles with an educational and gamified attitude."
If you don't own any NFTs, or are new to the space, this project is an excellent way to be exposed to this new industry. Learning how to open a wallet, buy and sell NFTs can be a daunting task and cryptomonKeys is a great way to start getting familiar with the processes and collecting some cool NFTs that you could even sell! With cryptomonKeys not only can you win NFTs, but you can also earn BANANO – their own cryptocurrency. "BANANO is super easy to use and puts an emphasis on free and fair distribution, gamification and crypto education."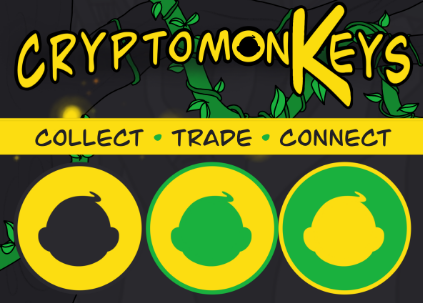 Dale the Llama believes that this new technology – the blockchain, NFTs, and play to earn gaming is something that everyone should at least have a working knowledge of. Upland gives players a soft landing into the industry, and we believe that cryptomonKeys is a great educational tool as well.
The best part is that cryptomonKeys can be won by playing Upland! By sending yourself to Upland properties owned by cryptomonKeys you are automatically entered into draws to win cryptomonKeys NFTs. In the future, you will be able to display these as well as other NFTs inside your Upland home for others to see!
Before you start earning cryptomonKeys you will have to create a wallet to store your NFTs and cryptocurrencies. cryptomonKeys are minted on the WAX blockchain, and you will therefore need a WAX wallet. Upland has already developed the ability to import NFTs from your WAX wallet into Upland, so this will come in handy in the Metaverse. Click here to learn how to open your WAX wallet. Once you your wallet address you can continue reading to learn how to get started.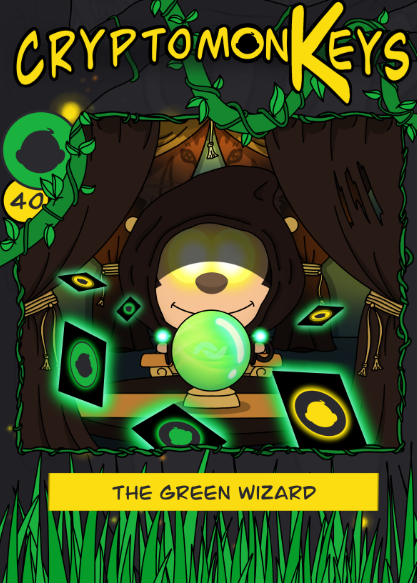 This is one of the many different cryptomonKeys cards – the Green Wizard. Click here to view it and all its details. Check out the entire collection here.
What resources are required?
WAX wallet
Upland account
What inputs are required?
Wax wallet address
EOS wallet address
UPX and sends in order to enter the contests
What outputs are produced?
Entries into contests to win cryptomonKeys
cryptomonKeys NFTs won by you
How is it done? Getting set up
Create WAX wallet – wallet address required for registration with cryptomonKeys
Find your EOS wallet address
Head over to the cryptomonKey's website to sign up. You require to input the following information

WAX wallet address
EOS wallet address
Discord name and number (4 digits after the #) - (not required)
The current city your block explorer is located

Follow the instructions to verify your account.  It will require you to send yourself to a specific property within Upland.
Check here to see your status to ensure you signed up properly.
How is it done? Enter the contest
Check out the cryptomonKey property addresses here.
Send yourself to the property in order to enter into the contest for winning a cryptomonKeys NFT.  Raffles are held every 6 hours.  Once a winner is chosen the entries are reset.  Only one entry per 6 hours.
Win cryptomonKeys by treasure hunting.  See what city the NFT is hiding in and be the first to send yourself to the cryptomonKeys property to find the NFT.
Check here to see your status to see if you have won, and how many entries you have.
Win cryptomonKeys NFTs for collection or resale purposes.
Display your cryptomonKeys in your Upland home (future Upland feature)
Familiarize yourself with NFTs and this new technology and industry.
Become a part of a community that collects cryptomonKeys NFTs – check out their Discord server