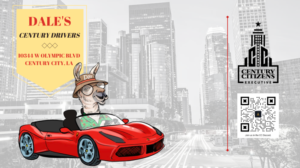 Located in the heart of Century City in Los Angeles, Dale's Century Drivers sells exclusive block explorers limited in mint numbers. Century City's name comes from 20th Century Fox Studios – this is where it is located. However, when you think Century City, the number 100 probably comes to mind. Fittingly, Dale's Century Drivers specializes in Block Explorers with a total mint number of 100 or less. We sell the rarest of the rare block explorers to the most exclusive clientele.
Through Upland's contests and giveaways, almost any player has the opportunity to obtain some of these rare block explorers. These are often in the highest demand by players with high net worth. The Century City neighborhood caters and houses many Upland Executives, and players of high net worth. Many of these players are part of the exclusive Century Citizens node in Century City.
Learn more about Century City here, and join their Discord server.
Below is a list of items that you can buy and sell in the Dale's Century Drivers shop. As we learn more about cars and car racing, you can expect to see the block explorers with the best driving abilities in this store as well. To learn how to list your block explorer in our shop, learn how to sell as a sub-merchant, or ask us a question in Discord.
Head over to our store now and check out what is on sale. If you are looking for something different, please check out Dale's other block explorer shops, and the Upland Guide Metaverse Directory for other stores. If you have any questions, reach out to us on Discord, or send us an email.
Our shop does not sell one-of-a-kind director block explorers. We believe players should not be selling part of their identity. Learn more about this in our YouTube video.
Items you can find in our store: