NFL Legits can be minted at the team's designated store/stadium. In the event the city does not yet exist in Upland, the primary designated city of that division is the city that you must travel to. As new cities are entered into the Metaverse, the team's store and stadium will also move. Below is a comprehensive list of locations where you can mint NFL player Legits from the designated teams. There are NFL players in the Metaverse, and you can see where they live here. If you are looking to travel to another city, utilize our Discord Travel Bot. It will tell you both the fastest and cheapest routes between any two Upland cities. Check out this video that will teach you how to travel between two cities.
If you are looking to buy or sell a legit through a Fan Shop Metaventure, use the Upland Guide Football Map to find a store in your area.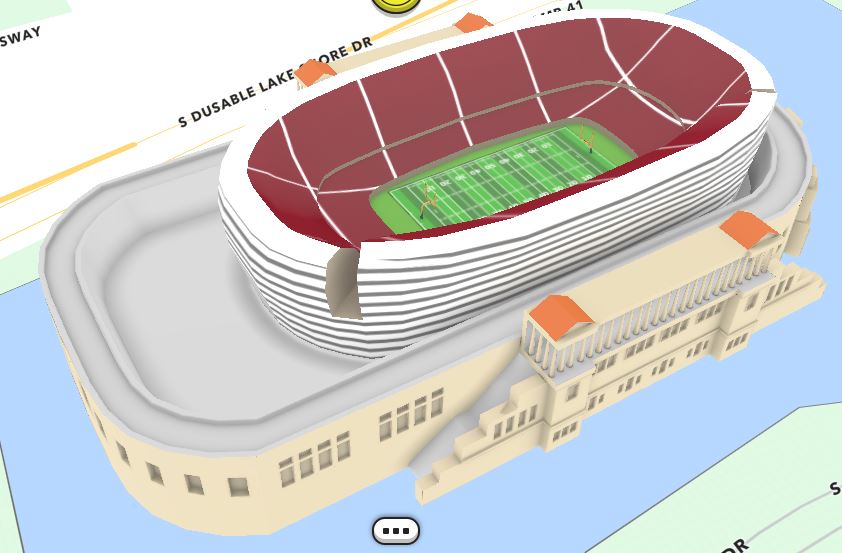 Don't forget that mementos are minted at the stadium where the game is being played, so be aware of your favorite teams schedule if its a home or away game! Learn how to mint Mementos here.
| Upland City | Team Name | NFL Division | Upland Stadium Address |
| --- | --- | --- | --- |
| Rutherford, NJ | Buffalo Bills | AFC East | 1 Metlife Stadium Dr |
| Rutherford, NJ | New England Patriots | AFC East | 1 Metlife Stadium Dr |
| Rutherford, NJ | New York Jets (NY2) | AFC East | 1 Metlife Stadium Dr |
| Rutherford, NJ | Miami Dolphins | AFC East | 1 Metlife Stadium Dr |
| Kansas City, MO | Las Vegas Raiders | AFC West | 1 Arrowhead Dr |
| Los Angeles, CA (Inglewood) | Los Angeles Chargers (LA2) | AFC West | 1001 Stadium Dr. |
| Kansas City, MO | Kansas City Chiefs | AFC West | 1 Arrowhead Dr |
| Kansas City, MO | Denver Broncos | AFC West | 1 Arrowhead Dr |
| Cleveland, OH | Baltimore Ravens | AFC North | 100 Alfred Lerner Way |
| Cleveland, OH | Cincinnati Bengals | AFC North | 100 Alfred Lerner Way |
| Cleveland, OH | Pittsburgh Steelers | AFC North | 100 Alfred Lerner Way |
| Cleveland, OH | Cleveland Browns | AFC North | 100 Alfred Lerner Way |
| Nashville, TN | Tennessee Titans | AFC South | 1 Titans Way |
| Nashville, TN | Indianapolis Colts | AFC South | 1 Titans Way |
| Nashville, TN | Jacksonville Jaguars | AFC South | 1 Titans Way |
| Nashville, TN | Houston Texans | AFC South | 1 Titans Way |
| Rutherford, NJ | Dallas Cowboys | NFC East | 1 Metlife Stadium Dr |
| Rutherford, NJ | Philadelphia Eagles | NFC East | 1 Metlife Stadium Dr |
| Rutherford, NJ | Washington Football Team | NFC East | 1 Metlife Stadium Dr |
| Rutherford, NJ | New York Giants (NY1) | NFC East | 1 Metlife Stadium Dr |
| Santa Clara, CA | Arizona Cardinals | NFC West | 4900 Marie P Debartolo Way |
| Los Angeles, CA (Inglewood) | Los Angeles Rams (LA1) | NFC West | 1001 Stadium Dr. |
| Santa Clara, CA | San Francisco 49ers | NFC West | 4900 Marie P Debartolo Way |
| Santa Clara, CA | Seattle Seahawks | NFC West | 4900 Marie P Debartolo Way |
| Chicago, IL | Green Bay Packers | NFC North | 1410 Museum Campus Dr. |
| Chicago, IL | Minnesota Vikings | NFC North | 1410 Museum Campus Dr. |
| Chicago, IL | Chicago Bears | NFC North | 1410 Museum Campus Dr. |
| Detroit, MI | Detroit Lions | NFC North | 2000 Brush St. |
| New Orleans, LA | Tampa Bay Buccaneers | NFC South | 1500 Sugar Bowl Dr |
| New Orleans, LA | New Orleans Saints | NFC South | 1500 Sugar Bowl Dr |
| New Orleans, LA | Carolina Panthers | NFC South | 1500 Sugar Bowl Dr |
| New Orleans, LA | Atlanta Falcons | NFC South | 1500 Sugar Bowl Dr |