Just as the real world, Uplanders are able to have a home address and become part of a community of like minded individuals. These communities will be able to hold a community vote on important matters that relate to that neighborhood. Voting will also be done on a city level and all of Upland. In order to vote, you require a home address.
Understand the voting process:
Why do this? What are the objectives?
Contribute your say and have an influence on important matters that pertain to your Upland home neighborhood, city, and all of Upland.
What resources are required?
An Upland Home Address

A property with a home structure
You have completed the KYC process
You have defined your Upland Home Address
You have not changed your Home address in the previous 30 days. (for votes that are neighborhood specific)
Only you are needed to cast a vote in Upland.
What inputs are received?
The details of the vote (as of November 2022, only Upland can create a topic to vote on. In the future, players or neighborhoods will be able to design their own votes)
What outputs are produced?
The result of the vote, including the implementation of those results.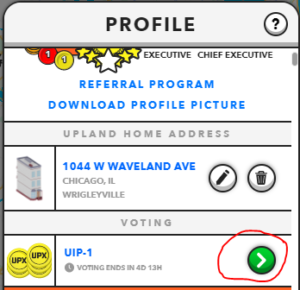 If you do not have an Upland Home Address, the voting section will not be visible.  Learn how to set your home address here.
Click the green button to learn more about the specific vote.
Cast your vote.  You are able to change your vote as long as voting is still open.