Passes are Legits that are commemorate different stages of the FIFA World Cup Qatar 2022 tournament. Passes can be collected to increase your fan score in collections and/or redeem them for more exclusive and potentially valuable Mementos that commemorate specific games and moments. Passes come in 3 different rarities – general, VIP and Platinum, where the rarer the pass is and the deeper into the tournament the pass represents, the fan score of that Pass increases. The different stages include the group stage, round of 16, quarter finals, semi finals, 3rd place, and finals.
Passes can be purchased in the Upland Store within bundles, or on the secondary market in player run fan shopד. Learn everything you need to know about how to purchase them in the video below. Learn more about metaventures here.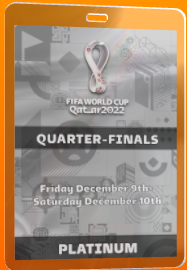 Passes are redeemable for unique Mementos of that same round. For example, when redeeming the Quarter-Finals Platinum Pass shown above, you will receive a rare Momento from that round. Mementos have statistics from a game included on the Legit itself to commemorate a specific moment from a game in that round.
To learn how to exchange a pass for a memento, follow the steps below.
Exchange a pass for memento by Upland Guide